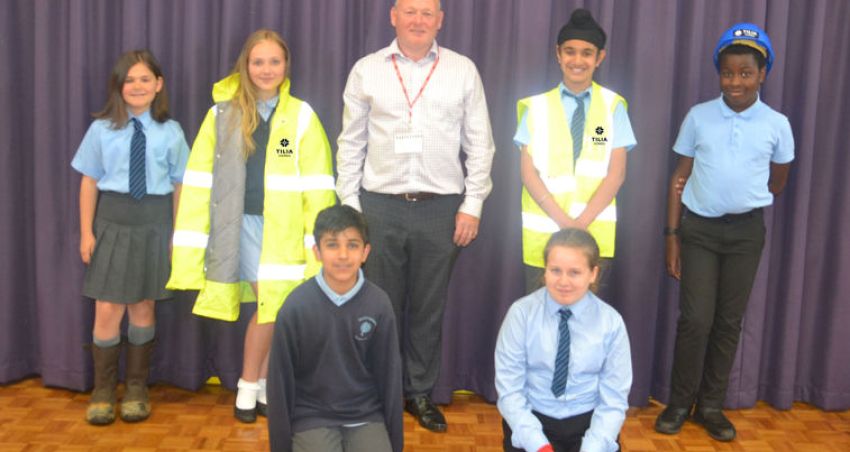 Hardingstone pupils learn about building site safety thanks to Tilia Homes.
Pupils at Hardingstone Academy have been learning about the dangers of playing near building sites thanks to housebuilder Tilia Homes.
The children had a visit from Steve Garrington, the Safety Health and Environmental Manager for Tilia Homes, which is delivering the Landimore Park development nearby in Hardingstone, to hear about building site safety ahead of the summer holidays.
The pupils were also invited to design a poster about the dangers that can be found on construction sites. The winner will see their poster displayed at the site and will be presented with an Amazon Kindle Fire tablet.
Head of school Julie Stevens said: "It was fantastic to host the visit from Tilia Homes and the pupils were really engaged with the talk and asked lots of good questions.
"With the summer holidays approaching and the new development beginning to take shape, it is important for the children to understand about the dangers of playing near live construction sites and I think the poster competition is a great way to make sure they take that message on board. I'm looking forward to seeing their designs!"
Steve Garrington commented: "The health and safety of the local communities in which we build is of paramount importance to Tilia Homes and it was great to be able to talk to the pupils and deliver a really important message around safety on building sites. The children were bright and enthusiastic and I'm sure we'll be receiving some creative responses to our site safety poster challenge!"
Tilia Homes is creating a brand new community of 750 private and affordable homes set amongst extensive public open space at Landimore Park. Construction work is now underway with the first homes set to be released for sale this month.