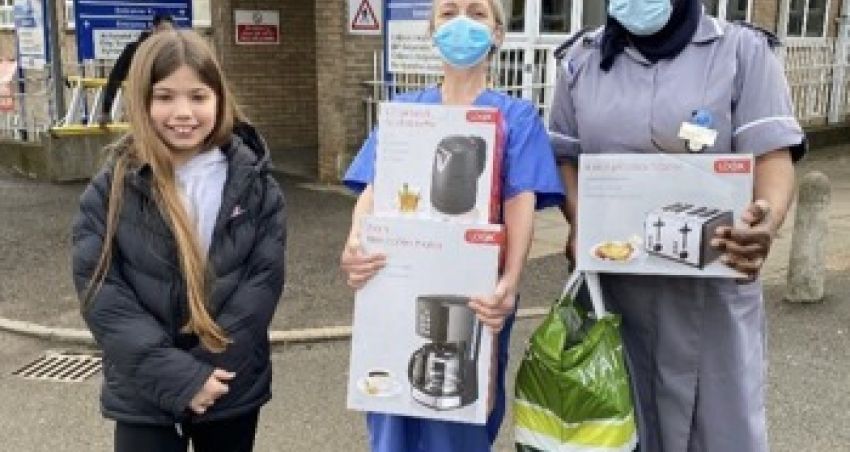 A pupil from Hardingstone Academy has raised more than £200 to donate to the hospital ward where she was treated as a baby.
Kiki Loraine, who is in Year 5, decided she wanted to support the labour ward at Northampton General Hospital.
Together with her brother Billy, who is in Year 2 at Hardingstone Academy, and their next-door neighbour Annie-May, the children held a sale on their driveway, creating bespoke friendship bracelets for friends, family and passers-by.
Kiki then used the money she had raised to buy a coffee machine, kettle and toaster, as well as some coffee and biscuits, for the nurses on the labour ward where she was treated as a baby after being born with Group B Streptococcus.
Kiki said: "I like making bracelets and I thought I could hold a sale and raise some money for the hospital.
"Annie-May's mum works for the labour ward and she said they only have an old kettle that doesn't work anymore. They were really pleased to receive our gifts."
Kiki's mum Karley said: "Kiki and Billy are delighted with the response they have had from everyone. Kiki really is a thoughtful child, and me and her dad are bursting with pride."
Kiki's sale raised a total of £216 for the labour ward, and she plans to use the leftover money to buy and deliver pizzas to the ward as a treat for staff.
Hardingstone Academy executive headteacher Mrs McIntyre said: "We are so proud of Kiki here at Hardingstone. She worked really hard to raise this money for the NHS and she is a real inspiration to her classmates. Well done Kiki!"