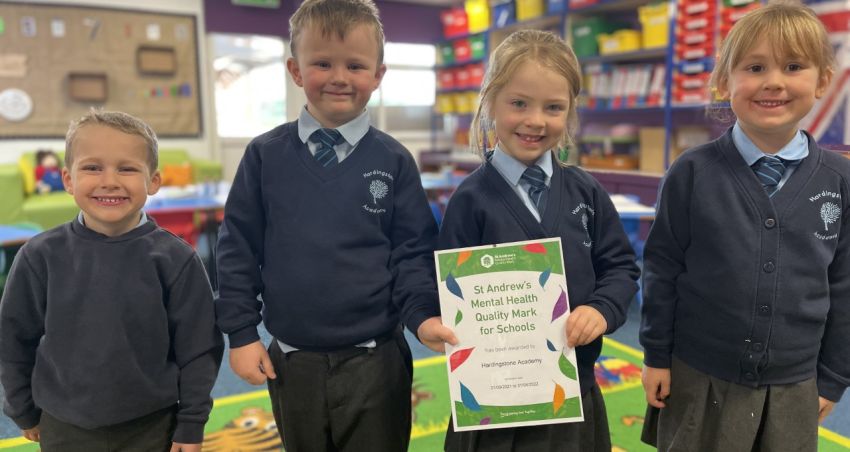 Hardingstone Academy has achieved official accreditation from the St Andrew's School Mental Wellness Programme called LightBulb, which recognises their commitment to the mental health agenda and good practice.
A team from St Andrew's Healthcare worked closely with the school over an 18-month Mental health award period, providing staff training and ideas for whole school strategies and practice. This culminated in an assessment day with the school, including interviews with staff and pupils, as well as gaining evidence through photographs and information about the systems, activities, and procedures the school has in place to create a culture that is positive around mental health.
LightBulb, which is suitable for both primary and secondary schools, provides a ready-made framework for schools so those that participate can demonstrate and showcase excellence regarding mental health practice to regulatory bodies such as Ofsted. The assessment day report found that: Pupils said that their school couldn't be any better. They knew who to speak to for help and could discuss the school's core values. There is a commitment to ensuring that all pupils have their needs met fully from an equality and diversity perspective, a learning and behaviour perspective, and a wellbeing and support perspective. Targeted support is in place for pupils who need it, and interventions meet the needs of each child. The curriculum is appropriately focused on the development of resilience, wellbeing and safety and includes various approaches towards supporting children to feel safe and supported. School leaders and governors ensure there is a developing culture of positive mental health for pupils.
Head of school Julie Stevens said: "We are very pleased to have achieved this accreditation and for the excellent feedback received following the assessment day. "We have been really focussing on staff training, to make sure they are able to support pupils in the right way and promote good mental wellbeing for the entire school community. We will be continuing this good work, and will be learning and raise awareness of mental health throughout this academic year."
Cheryl Smith, Headteacher of the St Andrew's College and LightBulb founder, said: "As a team, we wanted to find a way to target young people and try and equip them with the skills they need to be resilient and seek help about mental health issues, hopefully reducing the distress they experience and positively impacting the outcomes they experience. We believe early intervention is essential and can make a huge difference to the wellbeing of those children who are experiencing mental health issues.
"LightBulb is not just about helping children, parents and teachers to recognise the signs early, it's also about creating a culture of positive mental health which is driven by school leaders and embedded in practice.
"We firmly believe that this approach could significantly reduce the number of children who go on to develop complex mental health problems, but will also encourage their development of resilience, coping skills and self-help skills which are vital for overall development."
For more information about LightBulb, click here or email LightBulb@standrew.co.uk