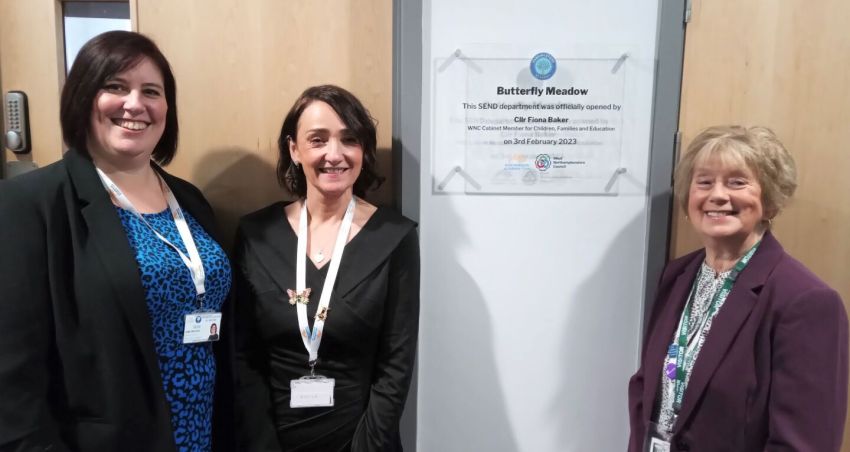 A new department providing specialist teaching and learning for pupils with special educational needs in Northamptonshire has been officially opened.
The new provision at Hardingstone Academy has been opened by East Midlands Academy Trust in partnership with West Northamptonshire Council and provides much-needed additional school places for children in Key Stage 2 with social and communication difficulties.
The provision, called Butterfly Meadow, was officially opened by Cllr Fiona Baker, cabinet member for children, families and education at West Northamptonshire Council, at a special celebration event today (Friday).
A second department – Caterpillar Pod – for Key Stage 1 learners with special educational needs has been opened at another school within the Trust, Castle Academy.
The two departments support children who have an Education, Health and Care Plan (EHCP) for communication and interaction needs, specifically Autism Spectrum Disorder.
Zoe McIntyre, Executive Headteacher for Hardingstone Academy and Castle Academy, said: "Butterfly Meadow welcomed its first pupils at the start of this month and it has been wonderful to see the children settle into the school community. We have some fantastic highly-trained staff who are committed to supporting the needs of each child to help them learn and succeed.
"As a Trust, we believe every child deserves to be the best they can be and we are delighted to see that the pupils in Butterfly Meadow are already beginning to thrive in this new setting."
Cllr Fiona Baker, Cabinet Member for Children, Families and Education at West Northamptonshire Council, said: "I am delighted to have opened this new provision today for children with social and communication difficulties. It is important that our children and young people access the best possible education and health provision that support their needs, and Butterfly Meadow provides just this.
"The opening of this provision is part of WNC's commitment to increase the number of specialist school places by 2024 which are built around the latest understanding of what's best for children with special educational needs and provides them with a learning environment that will help them thrive."
East Midlands Academy Trust also has a specialist department for children with special educational needs at its school Orchard Academy in Milton Keynes.